Your authentic Oxford experience starts here
Take your place among the 'dreaming spires of Oxford.
Oxford has been educating and nurturing great minds in the UK for over 900 years. Now it's your turn. Experience renowned tutorial teaching first-hand with an Oxford summer course and you too can learn from the best in one of the world's finest educational settings.
A summer school in Oxford is the perfect place to test yourself, prove your passion for your chosen subject, and demonstrate your commitment to academic success. And where better to meet like-minded international students?
Katrina, USA
"I would love to do this course again in the future. Oxford Summer Courses is a place where you can make friends that live all over the globe. And a chance to explore Oxford, London, and enjoy all sorts of extracurricular activities."
Emma, Sweden
"You get the chance to ask questions to someone that can tell you what it's like to work in that field and who can answer more difficult questions, you get a more inspiring insight in the subject than you get in your normal school."
Jana, Palestine
"My tutor, Mrs. Hila Levy was really kind and helpful, she made sure that all of the students in her class clearly understand the new concepts that she explained, and she used to give us a full feedback when we finish our work."
Krisha, India
"We were taught about business: what is it? how can we set up our own businesses? How can we successfully one day become leading entrepreneurs? Our classes were very engaging and informative. We did lots of case studies which helped us understand better."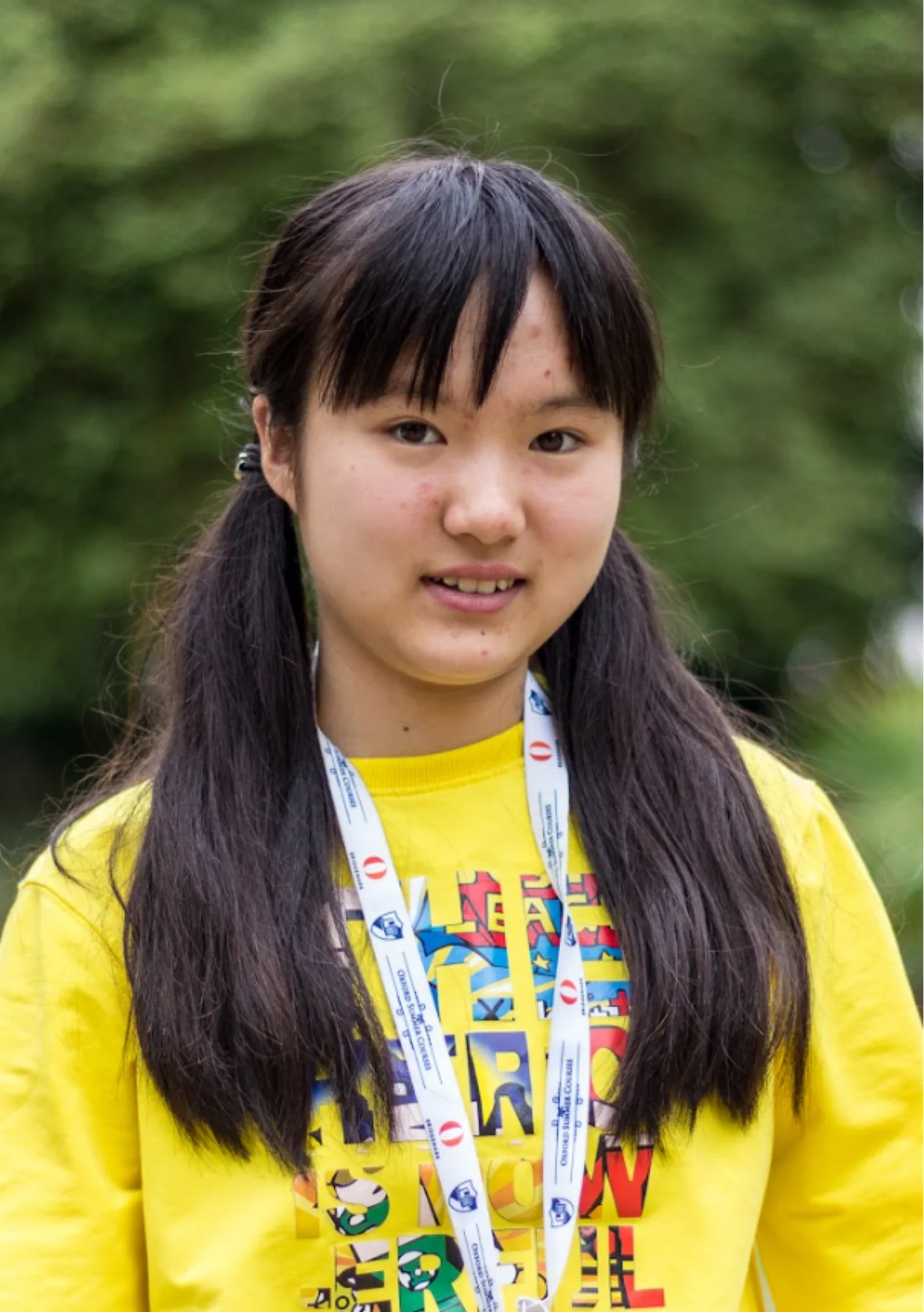 Summer, New Zealand
"I like my course, business and entrepreneurship, because I can learn many things there and the teacher can be more focused in teaching me since there are only six students."
Mitko, Macedonia
"The teaching is done so well here. I really like that my tutor broke down complicated issues into smaller subjects that we then discussed in-depth."
Alejandro, Spain
"I loved having people from different cultural backgrounds in my course-- they brought experiences to the conversation that I had never encountered before."
Muhammad, Pakistan
"My tutor, Daniel Kaute, was not only witty and engaging, but also took the time to make sure we are applying our own skills to the work we are doing."
Aryaman, India
"Chemistry has always been my favourite subject and my tutor at Oxford Summer Courses made me love it even more. Mr. Rami E Kremesti is one of the most experienced people I have ever met. He told us things about chemistry that one cannot find in any books. "
Erin, Canada
"The course made me realize that chemistry is all around me and there is much more than just the classroom."
Gabrielle, Australia
"I chose the same subject that I am studying at my own university (Classical Civilisations), but this course made me think about and view my subject in a different way that I hadn't been exposed to before."
Loobdhak, Bahrain
"After finishing the course, I feel as if I have not only learnt more on this topic but also understood how important it is in our everyday life. We explored different parts of computer science such as Hardware, Software engineering, Artificial Intelligence, Game designing etc."
Maxim, Russia
"Even though I consider myself an advanced student in this field, I still had something new to learn and feel as if there's plenty more that I could do."
Anas, Australia
"The favourite thing about my subject was that for the first time I felt like I was challenged, coming from a person who has taken Computer Science for 3 years in school (at GCSE and A Levels), which was kind of exciting and intimidating at the same time."
Christian, Romania
"The classes have simply amazed me and the tutor has guided us every step of the way, focusing on our interests, but also developing our critical thinking by encouraging us to support our views and finding arguments to do so."
James, USA
"I liked how we were given complex problems to solve. This pushed me to learn more and gave me the motivation to want to learn more."
Patrick, Norway
"I will forever appreciate the time I have spent at Oxford Summer Courses. During my time there I gained new friendships from a range of different cultures and I learned new things that about myself."
Magnus, Norway
"The main reason why I choose Oxford Summer Courses was to make new experiences, both with people and for myself to grow as an individual. Looking back now, the two weeks might be one of the most memorable and I am greatly thankful and satisfied."
Bree, Canada
"The Creative Writing Course helped me properly analyse famous writers' works in order to fully understand them while letting me create my own short stories and poems. "
Irene, Panama
"Oxford Summer Courses has been such a unique and fulfilling experience with the help of the counsellors and mentors."
Anjali, India
"Oxford Summer Courses, as an institution is such a perfect opportunity to experience the Oxford life for aspiring students!"
Jennifer, India
"It has been exhilarating, all in all, to be a part of Oxford Summer Courses and I would definitely recommend it!"
Madelyn, USA
"I chose Oxford Summer Courses because I wanted a way to meet new people from many different countries. It's also a great way to get a taste of the Oxford student experience through the challenging and engaging academics."
Marina, Finland
"My tutor was very nice and encouraging, she gave me lots of feedback that helped me improve my writing."
Ximena, Mexico
"My tutor was open to suggestions about other material we would like to see and study, like poetry!"
Adnaan, Mauritius
"The best lesson I have had so far was at the beginning of the course when we studied Game Theory, and when we did presentations in class about shops or platforms that we had to imagine ourselves."
Dev, United Kingdom
"My mentor, Mr. Christian Holm has been an absolute pleasure. I always look forward to his lessons, not only for my passion for economics but because I feel Mr. Holm has been great at dissecting complicated and large ideas, making them simpler and easier to digest."
Joshua, South Africa
"Inside the classroom we have learnt a great deal about a wide variety of topics such as game theory, evaluation, supply and demand, inflation and interest rates, allocation of resources which all fall under macroeconomic as well as microeconomics."
Chloe, China
"The economics course I'm taking is really helpful as a range of topics were introduced and explained clearly to us. "
Perla, Lebanon
"The tutor brought whole new perspective to subjects that I understood differently before. He really made us think outside the box and I feel like I've challenged intellectually."
Oxford Summer School Accommodation
Discover our available summer courses in Oxford and prepare for the learning experience of a lifetime.
Apply for a 2023 course