Discover Politics with Oxford Summer Courses: Join Our UK Summer School
As a subject, politics is one of the most important to know about in terms of the way it impacts and governs our daily lives and freedoms. And yet, it's one of the few that you'll really have the chance to learn more about until you're midway through secondary school or even sixth form.
If you do choose to study politics as a GCSE, A-Level, or even as an undergraduate degree at university, then you're in for an exciting and theory-rich learning adventure, one that's steeped in history, opinions, and debate.
Essentially, studying politics involves taking a broad examination of how governments, policies and internal relations within these circles work. And it's down to the politicians who stand up for what they believe in to win the people's trust and take charge of influencing decisions on important issues and questions. 
Whether you have ambitions of one day becoming a politician, or are simply fascinated by the subject and want to learn more, studying politics will leave you with a diverse range of skills that will help you excel in your further studies and career path.
What is Politics?
Across the globe, countries and the people that inhabit them are influenced by the field of politics - it's the way people living in these counties are able to make decisions on law and policy so that they can live harmoniously. Whether they adopt a democratic, federal, communist, dictatorship or republican approach (we'll dive into these a little more later), it's through politics that societies continue to operate, key policies are implemented, and global challenges are addressed. 
A country's political footprint is usually formed by a government which is typically made up of one or more political parties, each usually having differing views from the other. It's the role of politicians - the people who pursue working roles within these parties - to use their powers of persuasion and charisma to fight for the opportunity to secure a seat in government where they can follow through on the promises within their policies and help make changes for the good of the people living in their country or state. 
From managing the welfare of a country for its services, such as the running of hospitals and schools, to building amenities and housing that will benefit the people that inhabit their country, politics plays a key role in the operations and daily lives of billions of people.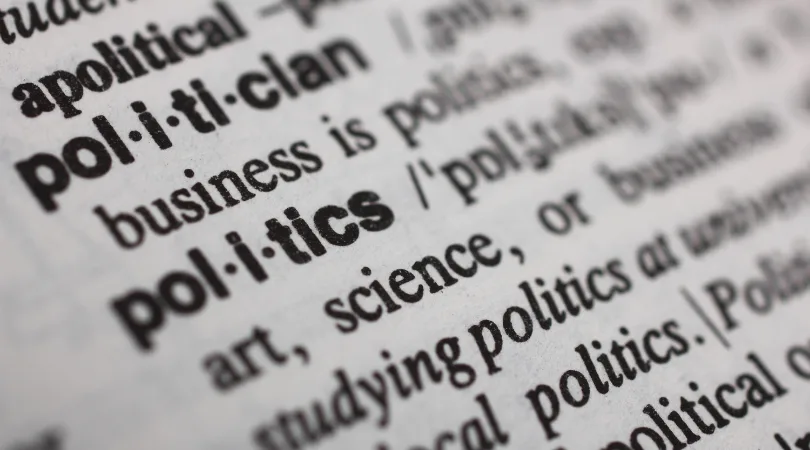 What is a political party?
By definition, a political party is an organisation or group of people who seek political power through elections in order to run or influence policies and laws for a country. 
Typically, political parties will put forward a group of candidates from across a country or state's local areas, with the ambition of them being elected to government in an election. However, in countries where there is a dictatorship, there is generally only one political party allowed, with the leader electing new leaders, rather than the people who inhabit that country.
Types of government
Now that we've covered what politics is as a subject, let's take a brief look at the different types of governments that are in operation around the world.
What is a democracy?
Essentially, a democracy means that a government is ruled by the people. The country's residents can take part in the decisions that affect the way their community is run, which can usually be done in one of several ways, including:
Direct democracy: The people themselves meet to decide on policy matters. This is usually done in small towns and countries, as modern populations are too large for this to work.
Representative democracy: The people vote and elect their leaders, based on their ideas for the country. These politicians then make political decisions for the people, based on the manifesto they outlined whilst campaigning. Elections are usually held periodically, or, when an officeholder dies. 
What is a federal government?
In larger countries, there are usually too many residents for one central government to make decision making - this is typically true for countries like America. Therefore they adopt a federal government, which is a system of dividing up power between one central national government and other local state governments that are connected to one another through the national government. 
By nature of the set-up, some key areas of public life are under the control of the national government, such as if a country decides to enter into war, while others are decided on by the local government to provide policies specific to the needs of the people in these smaller communities.
What is communism?
The word 'communism' derives from the Latin word communis, which means 'common' or 'shared.' As such, the fundamental ideas behind communism are around the idea of sharing the wealth of the country amongst everyone. 
Communism is a type of government in which individuals do not own land, factories, machinery or materials. Instead, the government or the whole community own these things as a collective and everyone in that community shares the wealth that is created by their output. Countries such as China, North Korea and Vietnam currently have communist governments. 
What is a dictatorship?
Another form of government that a country can adopt is a dictatorship. This is a form of government in which a person or small group of individuals rule a country or state with almost unlimited power.
Often, dictators come to power in free elections with the aim of gradually taking over complete control of a government. Or, they may use force to overthrow the current ruler and take the seat themselves - this is called a coup. 
Once in power, dictators take full control of the people's freedoms to vote. They often cancel or control elections to ensure they remain in power, while using the military or police forces to maintain control. 
What is a republican government?
In politics, a republican government is one in which the citizens hold all power; they vote and elect representatives chosen directly by them - much like a democracy. 
In fact, many countries who are classed a 'republican' are also considered to be 'democracies' or 'democratic republics,' like the USA and France. In these types of countries and states, the power of the governance rests with the people that live there, and the exercise of that power is also done by them through electoral representation. 
In a republic, there is a leader of government, such as a president or prime minister, who is elected by the people, along with other members of government who discuss and amend policies based on the needs of the people. 
What jobs can you get with a politics degree?
If you're interested in studying politics at university, then good news - a politics degree opens doors to a broad range of careers for graduates. This can include direct political work or social research, as well as a number of other roles across the fields of journalism, HR, PR and marketing. 
Keep reading below to find out more about some of the politics graduate jobs that you could consider pursuing in the future.
Jobs directly related to politics
Civil Servant
For students with an interest in pursuing a politics degree with the intention of working directly in the field of politics, the civil service may be an interesting avenue to consider.
In the UK, civil servants, also known as public servants, are people employed in the public sector by a government department or agency to undertake work that directly relates to the public sector. 
As a team, their central role is to help governments develop and implement policies as effectively as possible. They provide services that directly influence people's daily lives, including: the paying of benefits and pensions; running employment services; issuing passports and visas; issuing driver's licenses, and more.
For politics graduates, there is an accelerated leadership development programme called the Civil Service Fast Stream that provides you with the experience, skills and knowledge needed to become senior leaders within the Civil Service.
 Through this programme, you can gain a broad range of skills and experience of governmental services across their departments and agencies. This is a great way to build up a portfolio of experience in different areas, understand policy services, and even have the chance to work directly with the public.
Politician's Assistant
Another great political graduate job for those looking for a career directly related to politics is the role of a politician's assistant. When looking to gain work experience and prove your commitment to politics, there's not many other roles that will give you the same amount of exposure to the political field, so it's a great one to consider pursuing. 
Working as a politician's assistant, you'll provide all the necessary administrative support needed for an elected official. Depending on the type of work required by your politician, you could work on various tasks including secretarial work, research, and publicity work for campaigns. 
When searching for roles, you may come across related roles including a 'parliamentary assistant,' 'political personal assistant,' or 'executive officer.' Essentially, these job titles all mean the same thing, with the main function being to do whatever is required behind the scenes to ensure that politicians are able to represent the interests of their constituents. 
Policy Officer
For students with a keen analytical eye, the role of a policy officer may be a great graduate role to consider if you want to remain working in the field of politics. 
The role of a policy officer is to research, analyse and advise governments, think tanks and businesses about policies for the people, ensuring best practice is followed at all times. 
You'll be integral to the development and implementation of public policies for local and central government, having a direct influence on the way people's daily lives are governed. 
Daily responsibilities will include undertaking and analysing data and information about local areas, while also developing expertise on certain policies and geographical areas to really meet the needs of the people that you're developing policy for. You'll then interpret this information into actionable advice, supplying senior managers, stakeholders and other key decision makers with the necessary information to ensure correct policies are made. It's a great way to work directly on the ground with the people you're serving, whilst also incorporating a very data-driven approach to your work. 
Public Affairs Consultant
The role of a public affairs consultant primarily deals with offering policy advice to a range of clients across private sector companies, trade associations, charities, and even overseas governments. 
With a broad knowledge of political systems, including past and current policy, you'll draw on your expertise (and communication skills) to provide clients in the public and private sectors with valuable insights into the political environment about what types of lobbying action is needed. 
You'll need a keen eye for detail, reading daily government reports and sourcing key information from personal contacts, the media, and other political intelligence figures to maintain a great level of knowledge in the political field. As such, a lot of your work will involve maintaining relationships with these key stakeholders in the interest of your clients and the work they are doing. 
Social researcher
Another great politics graduate job for students who have an interest in research and data analysis is the role of a social researcher. As the name suggests, social researchers spend a lot of time conducting and interpreting social research projects to improve the living conditions of the wider public.
When it comes to developing policy for the people, governments and political parties rely on the hard work of social researchers to share insights and reports about communities that are used to develop new policies or shape existing ones. 
Social researchers can work across a range of divisions that rely on government input, including:
Benefits system
Crime and justice
Disability
Education
Families
Environment
Health and social care
Housing
Migration
Poverty
Social services
Taxes
Transport
To carry out your research, you will use a range of methods, including interviews, survey questionnaires, focus groups, and report reading to investigate the thoughts, behaviours and experiences of people and population samples on specific issues. 
Jobs indirectly related to politics
Charity Officer
If you're someone who is passionate about helping people but don't want to work directly in the field of politics, then you may want to consider learning more about the work of charity officers. 
As a charity officer, you'll be working for non-profit organisations that seek to improve the lives or conditions of different communities of people or those living at a disadvantage. You could work in one of several departments within the charity, such as business management, finance, marketing, fundraising, or volunteer recruitment. 
The role can be incredibly varied, depending on the type of organisation you go on to work for. This can be incredibly rewarding for a graduate student, as you have the potential to develop a range of skills and try your hand at a range of different experiences to learn more about which areas you may want to pursue further employment in.
Journalist
For those looking to combine their interest in politics with a passion for writing, then a career in journalism may be an interesting one to consider when you graduate. 
The primary role of a journalist is to convey accurate news and political information to the masses through storytelling. You can work either for a national or local newspaper, covering a range of topics on events, entertainment, and other areas of human interest. 
Journalism is a broad and competitive profession, and one which you'll need to demonstrate a lot of determination, dedication and ability to research and write accurate stories to tight deadlines. You'll usually start in a junior reporter position, writing stories that are allocated to you from the news desk. However, as you develop your skill and experience, you could find yourself specialising as a correspondent in a particular field or location, or, as a features writer, developing your niche in a particular area of interest for longer research pieces. 
Market Researcher
If the idea of a role that involves research on particular geographical or communities of people sounds of interest to you (like a public affairs consultant or social research), but you don't want to specialise in the field of politics, then the role of a market researcher may interest you.
In short, market researchers collect, interpret and analyse data to help others make informed political, social and economic decisions. This could be through quantitative (hard figures and statistics) or qualitative research (analysis of opinions). 
Typically, market researchers are employed by marketing agencies whose primary focus is to provide research reports for different companies and industries. However, you could be employed directly by a company (referred to as client-side), where they gather insights on customers and marketing trends to improve business performance. 
Public Relations Officer
Another role which draws on the skills and knowledge that you can obtain from a degree in politics is that of a public relations officer - also known as a PR officer or PR account executive. 
Essentially, the role of a PR officer is to manage the reputation of their clients, using their strong understanding of public opinion to form planned publicity campaigns that can influence their public image.
As a PR officer, you'll need a strong understanding of media and communication, using these channels to build, maintain and manage the reputation of your clients. Often, these clients can involve key players in the political field who are looking to sway public opinion ahead of elections, but you could find yourself working for a range of clients in business, music, film, TV, or the wider media. 
You'll communicate key messages, often using third-party endorsements, to find audiences, establish and uphold a positive reputation between people and the person or organisation you are representing.
Want to find out what other jobs you could pursue after a degree in politics?
We've listed just a few options of potential job roles you could pursue after completing a degree in politics, but there are actually so many careers you could consider as a graduate. The great thing about studying politics is that it provides you with a range of transferable skills and world viewpoints that will be helpful across all types of career paths. 
Take some time to research what options are available to you; websites such as Prospects can be really helpful at providing you with a starting place from which to explore different job opportunities in more detail. 
Ready to apply for Oxford Summer Courses?
For a once in a lifetime experience, join us for summer 2023 where you can discover over 40 academic subjects taught by expert tutors. You'll also meet other like-minded individuals from around the world and make friends for life! Apply today and choose from 3 stunning locations; Oxford, Cambridge and London.
Summary
New to the subject of Politics? Take a look at our introductory guide to the subject for students.