An Introduction to LinkedIn for Students
As a student at school, college or university, you are in a very exciting part of your life. Working towards your future goals and ambitions, you have an exciting period of planning and goal-getting ahead of you, but this time can also be considered as probably one of the more stressful parts of your life as well. 
You're likely to be navigating through your exams, trying to think about what career path you should choose in the future - there can be a lot to try and think about and process, which is understandably a daunting prospect.
Important questions can play on your mind, like; What grades do I need to secure my dream degree? How can you achieve your dream career? How do you even find and apply for jobs in your chosen field?
At first, aiming towards your ambitions can feel impossible. But there's actually some progress you can make now by building a professional profile online and making connections with those in your industry. That's right, you could try using LinkedIn. 
You may have heard of family or friends speaking about LinkedIn - and you may think to yourself that it is only for "professionals" and not for students like yourself that may still be studying their GCSEs, A-levels or your undergraduate degree. 
But LinkedIn is actually a great platform for students to start laying the foundations of their future pathway, meeting like-minded professionals, sharing industry insights and learning more about the opportunities available to them in their subject field. And if you're not there yet, now is the time to get active online.
What is LinkedIn?
LinkedIn is a powerful networking tool and social media app to help you achieve all those questions you ask yourself. Questions like how can I get started with my career? What sort of companies are out there that is within an industry that I am interested in? Or, it can be as simple as how can I gain a particular skill? It really is a great platform for those looking to grow themselves in a professional sense.
You can 'connect' and meet students just like you, as well as industry professionals who were once in your shoes. As a social media platform, your feed will contain relevant industry insights, knowledge about your subject, and even job adverts and advice from recruiters in your chosen area.
If that wasn't enough to convince you to sign up,  did you know that there are now also dedicated people and services that help teach students how to make the most out of their LinkedIn? Showing them how to build alumni tools, university pages, prospective student decision boards and even university/college ranking based on actual career outcomes - the list is endless. 
Even if you still aren't inspired by the idea of LinkedIn from what we've shared so far, take this from us: you should think of LinkedIn as a CV that never sleeps; it's a chance to develop your professional brand. 
Should students use LinkedIn?
LinkedIn is a place where you can connect with industry professionals, discover opportunities in your industry and jumpstart your career - there isn't any reason why you shouldn't be using LinkedIn.
No matter what point you are at in your academic journey, we believe that it is never too late or too early to create a LinkedIn profile. 
It is without a doubt that the majority of you reading this article are on most, if not all different social platforms, and being on LinkedIn is no different from them. 
But how can you differentiate between them? And what are the key differences between sharing your personal and professional life online, especially when using LinkedIn? 
A great analogy to help wrap your head around how you post differently depending on which social platform you are using is the example of a doughnut:
Facebook - I like doughnuts
Snapchat - Watch me eat a doughnut
Instagram - Here's a cool photo of my doughnut
Pinterest - Here's a doughnut recipe 
Whereas for LinkedIn: 
You would write something along the lines of "I hope to operate a doughnut franchise one day," "I'm looking for a job at a doughnut company," "I have three years experience making doughnuts," "My top skills are doughnut production and sales," or, "Here are 3 recommendations from former doughnut colleagues." (Careers LinkedIn, 2021)
The whole idea behind LinkedIn for students is to give you a world of opportunity to explore your career choices, build your own personal branding and of course, the overall outcome: to get hired by your desired company. 
Currently, there are over 500 million members on LinkedIn and 9 million of those users are made up by companies. Having such a huge presence on LinkedIn, these millions of employers post actively on their career opportunities. It is no surprise that LinkedIn job posting is the go-to site for recruiters and companies looking for potential candidates like yourself.
Setting Up your LinkedIn profile
Now that you know what LinkedIn can do for you, what do you need to get started? 
These are your profile essentials to start attracting the right people to make sure recruiters will gain a positive impression of you without having even spoken to you yet. 
Upload an appropriate photo
For those who are camera shy, afraid to show your face - it can potentially be a huge loss for you. Far too many LinkedIn members don't have a profile photo. In making that decision you are likely to have fewer people viewing your profile. In fact, it's estimated that profiles with a profile picture receive 14x more views than those who do not.
You want to be recognised, especially if you have spent the time updating your profile including all the amazing achievements you have done during school and/or university. We don't want your achievements to go missed, especially when this could make the difference between you getting a job over someone else. It makes the whole experience for the employer real, to put a face to the name. 
Research has even suggested that hiring managers or potential connections are using it as a "first filter - no photo? You're out before you even get the chance to interview or get connected." (Garriott, 2015)
Take the time to find or take a high-quality photo of yourself alone. We're not asking you to spend hundreds of pounds to pay someone to take a professional photo, but you also can't be using photos that you would send to friends over Instagram and Snapchat. Find or take a photo that best represents you and how you want to be perceived by recruiters that are looking at your profile.
Here are our suggestions for you to follow to have the best profile photo:
Is it a recent photo? You want people to be able to recognize you in this photo.
Have you checked the picture quality? As we mentioned before, we aren't expecting you to have a professional headshot, but some things to keep in mind; does the photo look blurry? Is the photo pixelated? 
Does the photo showcase your professionalism? LinkedIn is a social platform for professional connections - you are likely to want to reflect this in your photo to show that you are professional. 
Take the time to use your phone to capture the perfect professional photo of yourself. Just be mindful if you are taking your own photo that it isn't a selfie, make sure you have a clear background and you are dressed professionally.
Uploading a background photo for your profile
When you initially set up your LinkedIn profile you will see behind your profile photo there will be the standard grey background - similar to the Header Image on your Facebook profile. Changing this image can make your profile stand out - and standing out is what you want to do to make potential connections and recruiters interested in your profile.
You may be thinking, is the background image that important? And our answer is absolutely, YES! It is as important as your profile photo as it is one of the first things they will see. Setting a background that reflects who you are, your brand, and what professional image you want to pass across to those visiting your profile is important. 
Still unsure what you can do for a background image? Take a look at Dharmesh Shah, the Founder and CTO of HubSpot. They have created a background that summarises who he is and what he likes - it's small and simple but yet very effective. 
We know as students you wouldn't be able to create a background like Dharmesh saying that you help start-ups or that you are a Founder of a company. Instead, you could collate your personal or academic achievements such as if you took part in the Duke of Edinburgh award, volunteered and had an impactful difference in someone else's life. You may love hiking or architecture, as an example, and you want your connections to know this. So upload an image that reflects this. 
Anything you believe is worthy should certainly be shouted about; you can make your background as creative as you want - just always ask yourself what your background says about you.
Your headline
The headline that you set will be the next part of your profile which people will see after looking at your photos. Just like the headline of a newspaper, it's a one-liner that summarises your current role and/or ambitions.
As a student, when you first set up your LinkedIn profile and, if you currently do not have a job, it will automatically set you as a student at the school/university you are currently attending. But you can of course change this. 
Your headline is an important part of your LinkedIn profile and it should reflect the message you want to perceive. It is your chance to show people who you are and what you do - show people what you are passionate about related to your future career. You can write about what you are passionate about; quite literally you could write 'passionate about marketing' as an example. Giving you a great opportunity to show your personality and what you are interested in and add important keywords. 
When it comes to changing your headline, if you are not currently employed or you just don't want your headline highlighting your current role, you can make your headline like this; 'Student at Oxford Summer Courses | Passionate about Marketing.' 
Before you save, you will be asked to select an industry which you are interested in and you can select 'Marketing & Advertising' if this is your area of interest - this will help customise your account and ensure that people in that industry, and those that you would want to see your profile are seeing it. 
If you are still feeling unsure what you should write for your headline, why not ask friends, family or your careers adviser at school/university their opinion? Often, it can be easier for someone on the outside to give you a simple 'one liner' about yourself.
Finally, don't forget that your headline can be changed as many times as you like, so don't worry if you don't get it right the first time - you can always go back and revise it at a later date. 
Summary for your profile
Writing your summary is an extremely important part of your profile and is something that you should spend a lot of time on. There are many students out there today (and you may be one of them) that have either opted to not include a profile summary or have only written a short paragraph.
A summary is a great opportunity to share your accomplishments, to write about your mission statement, to share your career goals and also to add your personality to your profile. 
You want to encourage those who have taken the time to look and continue to scroll through to read your summary. Show them who YOU are, and why they should either consider interviewing you or connecting with you on LinkedIn. This is what makes LinkedIn more unique than a CV - it breaks away from a plain A4 piece of paper and adds some context as to who you are. 
When you think about writing your summary, you should think of it as the first few paragraphs of the best parts of a cover letter. You want to include your experience, qualifications, and goals you want to achieve. Describe what motivates you, what you've done and what skills make YOU unique - make sure you are clear and confident. 
A tip for you when writing your summary is when someone looks at your profile they will be able to see 3 lines before they click on the show more button. You want to utilise this and capture your reader's attention! Ask yourself when you write your first 3 lines, would someone want to keep reading to find out more about who you are?
Something that we recommend to help start your summary is to talk about what you are currently doing, for example if you are at university right now you could write 'I am currently a student at Oxford Summer Courses, pursuing a short course in Business and Marketing with a desire to learn about digital marketing as well understanding different social media platforms. Over the course of 2 years, I have been able to secure an internship at Oxford Social Technologies. During my internship, I was in charge of XYZ…'. Starting to make sense?
After you have spoken about what you are currently doing, move on to how people would describe you and your work ethic. What about the skills you have mentioned makes you unique? Do you have any evidence to back up your statement about how hardworking you are? 
Once you have described yourself, you can then move on to the career path you are interested in. What makes you excited about that particular career? And what call to action are you hoping to get out of people seeing your profile? Do you want people to connect with you so that they can tell you about any upcoming opportunities? 
Now that you have read through what you can include in your summary, you can decide on whether to do it right away or to do it last after you finish setting up your profile. 
If you are struggling with writing one then we would recommend you to finish the rest of your profile as it could give you ideas on what you can write for it later. Don't stress about it if you can't come up with a summary right away. You want it to be perfect so keep trying and perfecting it before you upload one to your profile.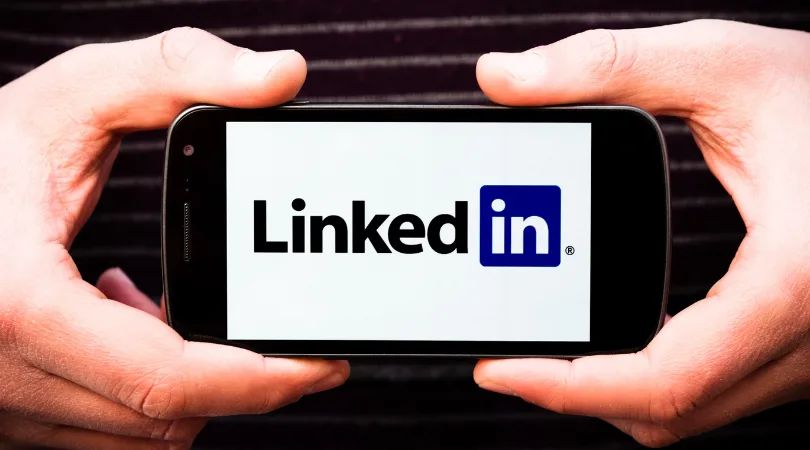 A quick note on LinkedIn connections
Throughout this article, we have mentioned connections - getting people to connect with you and attracting more views to your profile to improve the amount of LinkedIn connections. But, what exactly are connections? 
We mentioned at the beginning how great LinkedIn is as a tool to connect with professionals within their field, it is the most effective platform to get links closer to your desired career path. Just like you would 'add' a friend on Facebook or 'follow' someone on Instagram, well on LinkedIn you can 'connect' with some.
As a student creating a LinkedIn profile you are just at the beginning of creating your professional network - the key here is to get started as soon as possible. 
Developing your professional network will help open doors for you in regards to job opportunities and feedback about your profile and/or professional training or development - it is something you should continue to build. 
To get you started on your connections, we would recommend you connect with your friends, family, peers or co-workers - if you haven't done this already. From here you can then start to build connections with others who you may not know from an immediate sense.
If you are adding someone whom you met at a networking event or someone in a similar field of work as you, we would recommend before sending a connection request to add a note saying why you want to connect with them - just as a friendly note to say hello and explain your reason for connecting. 
Once you start adding more connections into your network, LinkedIn will start to give you recommendations of people who you might want to connect with. These recommendations can be very useful because as you start customising your profile, adding what you are interested in and developing a feed which contains your area of interests, LinkedIn will use this to help guide you in the right direction and show content that's relevant to you.
--
We hope you found this article useful, giving you the right tools to get started with your LinkedIn profile or to strengthen what you already have. 
As we move towards a more digital world of networking and meeting new people, we believe that LinkedIn is very important for you to find the most exciting prospects and opportunities - and the last thing you would want is to be left behind. Give yourself a head start and develop your profile to help open opportunities for you. 
Read our other blogs for more student help and advice
If you found this article helpful, why not take a look at our other relevant student advice articles.
We have a range of blogs helping you answer those questions and qualms which many students may be too afraid to ask or struggle to find the answers to. 
Finally, if you want to start expanding your connections and network with like-minded students, there is no better place to meet new people from around the world that are as academically curious as you are at an international summer school.
Join us on a summer course in Oxford, Cambridge or London for an unforgettable experience to meet students from all over the world. Not only will you be able to get to know  your connections from across the world, but you will also make meaningful friendships with people who may go on to stay with you as friends for life. 
Join us next summer - apply now
Summary
Not using LinkedIn? Get yourself set up on the popular social media network for professionals with our introduction to LinkedIn for students.