How to Prepare for a University Interview
Great news - you've submitted your UCAS application to your dream university and received an invite to attend one of their interview days. You've made it to that next exciting stage of the admissions process!
But only now here comes the nerve-wracking moment, you realise that you actually have to attend the interview.
Now, as daunting as the thought of a university interview may sound, they're actually a really great way of ensuring that both you and the university think that you're the right student for the course you have applied for. 
In response to an increasingly growing demand for places at top universities, more and more learning centres are making university interviews a much more common aspect of the application process, ensuring that the right candidates are securing places on their courses. 
Now, we know this knowledge doesn't mean that you're necessarily going to eliminate all nerves - of course, any formal interview setting can invoke nervousness into the most established professional. But it should at least alleviate some of the pressure of the event. 
With that being said, there are of course some easy ways to help reduce your nerves ahead of the interview, and that is of course, to prepare ahead of time, so you know exactly what to expect. You want to make sure that you take some time to do interview preparation ahead of the big day, ensuring you have all the tools (and answers) you need to help you thrive on the day.
How to Prepare for a University Interview
In the days and weeks leading up to your university interview, you'll want to spend some time acquainting yourself with the university interview process so you can ensure you're as ready as possible for the big day. 
Below, we've collated some top tips from the Oxford Summer Courses team about how to best prepare for a university interview. Read them through and make notes of any preparation you are yet to do (or forgotten to do) - so you can be as ready as possible. 
Read around your subject
It should come as no surprise that during your university interview you will be tested on your knowledge of the subject, both in an academic sense and in a real-world context. 
As part of your university interview preparation process, you should actively be reading around your subject outside of the classroom. Keep up-to-date with all the latest news and updates around your subject area, and note down anything that you think may be an interesting point of discussion. 
This isn't limited solely to reading; you can also watch documentaries, read podcasts, visit museums, and do anything else that helps you learn more about your subject area and help you gain a broader perspective on the matter.
Consider any questions you could be asked
One of the biggest concerns on any student's mind is 'what are they going to ask me during my interview?' And most importantly, 'how can I ensure I'm as prepared as possible for these questions?'
Unfortunately there isn't one 'set' style of interview that every student will experience during the admissions process. It's important to remember that each and every university interview is unique; that is because it's focused entirely on your interests, conversation, and the course you're applying for. 
With that being said, there are some common university interview questions around your course choice and interests that the admissions officer will be likely to ask towards the earlier part of your interview, no matter what subject you have applied to study. 
Read our guide: 12 Answers to Common University Interview Questions for a comprehensive overview of the essential questions your interviewer will be likely to ask.
Once you've established the basics and your interviewer has started to learn more about your personal interests and passions, they'll probably start to ask questions based on the answers you've given. 
For example, if you were to mention that you've wanted to be a doctor since you were five years old, they might follow up with a question that asks about a specific memory you have or what you've been doing outside of school to further your interest in the subject. 
Similarly, if you were to mention that you're proud of your grades in school, they might ask you to recount a time when you faced an academic challenge and how you overcame that challenge - giving them insight into how you handle different situations. 
Therefore, when doing your interview preparation, make sure that you have a relevant experience or memory to back up any points you want to make. To help with this, it's worth re-reading your personal statement and annotating any 'claim' you make (e.g. 'I am a hardworking student') with a piece of relevant evidence (e.g. 'during the last group project, I went above and beyond the other team members to collate all our work and write it up in an appropriate presentation format.') This is because the interviewer will have most likely drawn up some questions for your interview using the information you have provided in your personal statement 
No matter what the interviewer asks you, remember to be honest. It's okay to be eager to impress the admissions committee - after all, you're competing against other students for your place on the course - but you should never lie when answering a question. The interviewer may just pick up on something you've lied about and ask you to expand on it, which could be chances over if they catch your bluff.
On the day, make sure you provide them with as much information as possible about experiences you have had and don't be afraid to take a moment to pause and ensure you cover everything, especially if it's a question you're not expecting. It's better to pause and give them a detailed answer with examples, rather than a rushed response that lacks substance.
And make sure you prepare some questions to ask the interviewer too
In the excitement leading up to your university interview, it can be easy to forget that the meeting is just as much an opportunity for you to consider if their university and course is right for you as it is for them to assess if you are the right person for their institution. 
In advance of the interview, make sure that you prepare a list of questions that you want to ask the admissions officer that you may not have found enough detail about in their prospectus or on their website. This can be absolutely anything that you want to learn more about; from teaching to student atmosphere. 
But if you need some ideas, we've compiled a list of some potential questions below:
How many contact teaching hours are there? - This will help you assess how much time you'll actually spend in the classroom learning from an expert, rather than independent study and self-directed group learning sessions.
What's the difference between the course I've applied for and similar courses? - When applying for your course, you may have noticed that there are many related courses, or even combined courses that you can choose from. E.g. 'English Literature & Creative Writing' versus pure 'Creative Writing.' You can ask the advisor about what this means in a practical context, e.g. does it mean you have greater flexibility over which modules you can choose? Ensuring you've picked the right course.
How many students are in an average class? - Small classes are recognised as a better learning experience for students; fostering discussions amongst peers, the opportunity to gain more attention from your tutor to consolidate your learning; and receive more regular feedback on work. You want to make sure that the university prioritises your learning over having lots of students in attendance. 
What are some of the most popular modules for students to take? - Finding out which modules are most popular among students will give you an idea of the types of content you might expect to cover during your course - these are modules that will most likely run over the next academic year due to high interest and demand. 
What support networks are available at the university? - University can be a challenging experience for some students. Moving away from home, embarking on a potentially new subject, managing your own finances - it all comes with new changes that some find difficult. You want to make sure that if you need it, your university will have appropriate support available to you.
Check to see if you have any interview requirements
As mentioned earlier, there is no one set 'style' of university interview, and different admissions boards may have different requirements for those attending their interviews. 
Firstly, you want to check to see if you will be required to complete anything in addition to your interview on the day. For example, if you're applying for a degree in Theatre Studies, will you also need to prepare a five-minute monologue for the day? Likewise, if you're applying to study Mathematics, have they informed you that you'll be taking part in a test on the day that you need to revise for? (In which case, you should also take a pen and paper along with you, just in case!)
In some instances, universities may ask that you bring specific items to their university interview. For example, an art student may be asked to bring a creative portfolio of their work, while a scriptwriting student may be asked to submit a script in advance and take it along with them to discuss on the day. 
Admissions teams like to see physical examples of work, helping them make more informed decisions about your ability and suitability for their institution. Sometimes, they do like to take this work away with them to consider away from the interview, so make sure you save a copy if this is the case - but they should let you know in advance.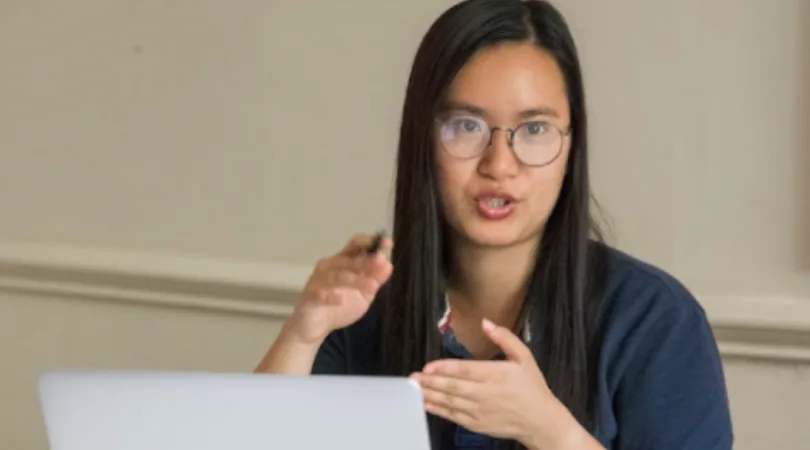 Make sure you have an appropriate outfit
If you've ever watched a rehearsal for a play at school or college, then you'll know just how impactful wearing the right clothes can be at helping an actor get into their role. Even in the earliest stages of a production, actors will often rehearse in certain clothing pieces that they connect with their character.
Before opening night, they'll have an actual dress rehearsal with real costumes, helping the actor transform themselves into an entirely new person. It's incredibly powerful to see the effects these clothes have on the actor's ability to 'play' a particular role - and when it comes to your university interview, you can actually learn a lot from this.
Your university interview, whether conducted in person or online, will be the first time you meet your potential university tutors. You want to make the best first impression possible - and this starts with having the right outfit.
Your clothes and overall appearance communicate volumes about you as a student. Just as the actor behaves in a particular way when dressed as their character, so do you when dressed professionally for a formal interview. 
Traditionally, interviews are quite professional events, and you want to dress appropriately. Now, this doesn't mean you have to wear a full suit, but wearing something that is considered smart-casual and above all, comfortable - especially if you're travelling far. 
Practice mock interviews
Ahead of your interview date, it's not a bad idea to practice with a mock interview. Not only will this help you consolidate your thoughts and rehearse the types of things you want to say on the day, but it may also alleviate some of the pressure as you will have some experience of the interview process and know what to expect on the day. 
We'd recommend that you ask a teacher or academic tutor to practice this with you - as rehearsing with friends and family may make it feel less 'authentic' and you may find it easy to get distracted. With an academic professional, you'll feel more conscious about using their time and treat the event as a more serious mock interview. 
In addition, your teachers and tutors will also have experience of the admissions process, which your friends and family may not necessarily have or be up to date with. They'll know the types of questions you can expect to be asked in your actual interview and make it a far more authentic experience. 
Note: If you're looking for professional coaching on the university interview process, as well as the chance to run a mock interview with an experienced counsellor, take a look at our sister company, Melio, and their University Guidance programme. 
Pack a bag and lay out your outfit the night before
Finally, and perhaps most importantly, one of the best ways to prepare for a university interview is to get everything ready the night before so that you aren't adding additional stress to the day.
As part of your preparation for any university interviews, you should, as routine, spend the night before packing a bag to ensure you have everything you need for the big day. Check you have everything you need for your travel, including a bottle of water, stationery, and any other materials you have been asked to bring with you. After all, there's nothing worse than rushing around on the morning of a busy day, trying to remember everything you need to pack - you'll inevitably forget something (like that portfolio you might have been asked specifically to take along with you!)
Remember to also get your outfit out, ironed, and hang up in your wardrobe that same evening so it's ready for the next day. Don't forget to polish your shoes and lay them out by the door. Again, you don't want to be rushing around and looking for your favourite shirt on the morning of your interview. 
Summary
In any scenario, preparing for an interview ahead of time is always a good idea. From organising the essentials for the day - your travel, outfit, bag, etc. - to preparing answers to some commonly asked questions and anything else you want to discuss on the day, you should spend some time ensuring that you have everything ready to shine on the day. 
Remember that your university interview is a chance for you to not only sell yourself to the university but for the admissions committee to also convince you to select them as your university of choice. Try not to put too much pressure on yourself, and treat it more as a two-way conversation on the day. The more relaxed you can stay on the day, the smoother things are likely to go.
Discover more university tips and student advice
Found this article helpful? Discover the other articles we have available on our website, giving you expert tips and advice to help you smooth through the student experience.
Summary
Invited to attend a university interview? Get yourself prepared for the big day with our helpful advice article for students.