Benefits of Cambridge Summer Course
Throughout history, Cambridge has led the way as one of the UK's best cities to visit. With its world-renowned reputation within the education sphere, striking architecture, multicultural footprint and innovative research centres in technology and bio-sciences - it's a popular destination for tourists and students alike, all eager to soak up its unique atmosphere.
Its internationally-recognised education is a big enough draw on its own; generally recognised as one of the world's best universities, it's ranked joint third with the world-famous Stanford University. Home to over 100 Nobel Prize laureates, it's also nurtured some of the world's greatest thinkers, including Stephen Hawking and Alan Turing.
But besides being one of the most recognised cities for it's university, it has so much more to offer its visitors. To help you make the most out of your next visit, we have compiled 5 reasons why you should consider studying in Cambridge this summer. 
5 Reasons Why You Should Consider a Summer Course in Cambridge
Read below for just a few reasons why you should consider attending a summer course in Cambridge this year.
1. Enjoy the benefits of a compact city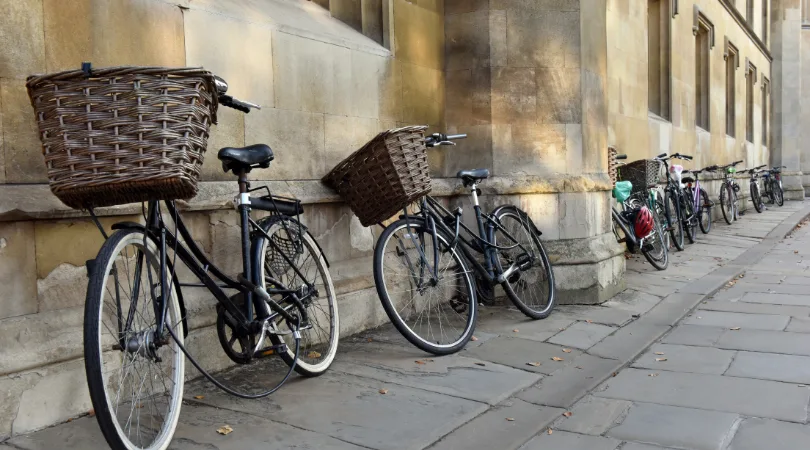 Take a look around your surroundings when you are in Cambridge - the city is known for its unique mix of picturesque parks, striking architecture and surrounding scenery. It is the perfect city to kick back and relax, study hard, or even as somewhere where you can even enjoy the great outdoors.
If you are looking for somewhere to wander around with ease, then Cambridge is the perfect place for that. As a compact city, everything is within just a short walk or cycle, so you can visit local businesses, market stalls and explore the great local culture of this quaint student city. 
And did you know that because Cambridge is such a small city, it was one of the cities that was able to escape WW1 bombings? Unlike many other English towns, it still has many beautiful old buildings in its narrow medieval streets to explore.
<u>Ways of getting around Cambridge:</u>
To make sure you get to see everything around this city, you could always rent a bike and tour the city on two wheels. Cambridge is well-known for its barrage of bikes and the city is set up well for riders. There are lots of places to hire bikes from and you can just about lock them up anywhere, so don't worry if you want to stop for a bite to eat anywhere.
If you don't like cycling, you can always find and book onto a Cambridge walking or even punting tour - some are even free! Different tours focus on different parts of Cambridge; some show the architectural highlights of Cambridge, ghost tours in the city's most haunted areas, explorations around the university and its colleges, or even a science-specific tour about the city's history of innovation. There's tours available for people of all interests. 
2. Soak up its rich academic history
For centuries, Cambridge has been leading the way as one of the best universities on the globe. Ranked second in the UK and joint third internationally, the city itself is steeped in prestige and a rich academic history - an inspiring study destination for students.
During a summer course in Cambridge, you'll have the opportunity to eat, sleep and study in one of the university constituent colleges for a truly authentic learning experience. Residing in the same historic buildings that have nurtured some of the greatest minds in the world, it's a truly inspiring environment to learn in.
During your free time and as part of your scheduled extracurriculars, there's also plenty of opportunity to soak up the wider city's academic sphere.
As an example, just one of the things you could doing is going behind the scenes on a university tour; walk around the university grounds and explore parts of Cambridge's famous colleges that you may not normally see, you'll get an insight into the beautiful hidden spots and the college's academic history from your local tour guide. Cambridge, in general, is quite easy to walk around and  the university grounds are no different. 
Does the idea of walking in the same footsteps of Nobel Prize winners appeal to you? If so, you should visit the grounds of Trinity College Cambridge. One of the greatest scientists spent his academic life at Trinity College - Sir Isaac Newton - who carried out most of his experiments and also lectured on Physics in this constituent college. 
The University of Cambridge is known for attracting other great minds such as Sir Stephen Hawking, Charles Darwin and Francis Bacon to name a few. Other brilliant people to have famous affiliations with Cambridge as well include Alan Turing. This computer scientist, mathematician and philosopher may not be familiar with many people however, he was an essential part of the development of computer technology and recognised for helping break the Nazi Enigma code during WWII. Turing spent many years expanding his knowledge of theoretical computer science at King's College in Cambridge - and the city houses some of his famous works in archives at the Fitzwilliam Museum.
If you are planning to visit the colleges, be aware that access is off-limits during exams and at certain times of the day. Make sure you go onto their website to check whether they are allowing visitors at the time you decide to visit. 
3. Visit some amazing sites and artefacts
Cambridge houses some of the most wonderful museums and buildings in the world. Ranging from museums like the famous Fitzwilliam Museum; this is where you'll find stunning paintings that date back as far as 2500 BC - to museums showcasing world-class research like the Scott Polar Research Institute Museum; this is a niche museum that's all about Cambridge University's world-class polar research, "from penguins to painting, sleeping bags to sextants, Inuit art to explorers' diaries" (The Polar Museum, 2022) - there's so much to explore through the impressive archival collections of the museums. Dive into the city's unique history and learn new facts from the corners of the globe.
Aside from the vast range of museums available to visit, Cambridge offers some great sites for the wider community to enjoy around the city too. For example, when you find yourself wandering down the iconic King's Parade on a slow Sunday morning, you could catch a glimpse of The Corpus Clock on the corner of Trumpington Street.
This distinctive public monument has been admired by many tourists and locals alike since its unveiling in 2008. The clock is an unusual design, invented and designed by Dr John C Taylor. And its rather unique, albeit slightly morbid design to 'represent the passing of time,' makes it a popular site for people to visit.
Further to some of the most beautiful sights in Cambridge is the Bridge of Sighs. This bridge belongs to St John's College and was built in 1831, crossing the River Cam between the college's Third Court and New Court. A common myth states that students named this bridge the 'Bridge of Sighs,' as the bridge exists within the college grounds - the name evolving from the alleged 'sighs' of pre-exam students. But this is not the case - it was actually named after the Bridge of Sighs in Venice. 
Another great recommendation for places to see in Cambridge is The Mathematical Bridge, which was built in 1749 by James Essex. At first glance, the bridge would appear to be arching; however, this is not the case. It is actually composed entirely of straight timbers built with a sophisticated and carefully engineered design. And this geometrical construction is what gives it its famous name. Though the bridge is not currently open to the public due to its archaic construction, you are able to see the bridge by punt, where you can take photos and enjoy the tranquillity of bobbing along the river under this historic monument.
Finally, our last recommendation of places to visit is King's College Chapel. This is the most iconic and most recognisable building within the University of Cambridge and one you've probably seen online or in the media before. The building is a stunning gothic chapel that is a landmark of Cambridge and a definite must for visitors. As a working religious chapel, there are a range of services you can enjoy when you visit. For example, if you choose to visit Cambridge in December, there are plenty of Christmas services to attend and every Christmas Eve there is a choral service to enjoy. If you ever find yourself in Cambridge during the festive season, be sure to head over to the chapel to see what is happening!
4. Enjoy the city's green spots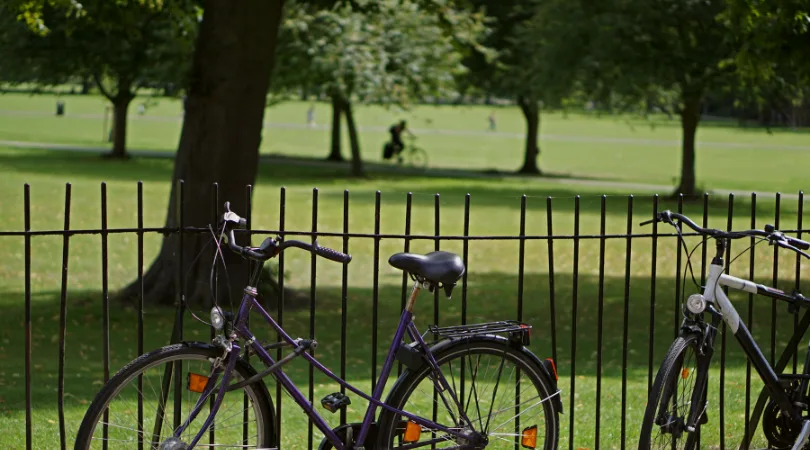 If you want to get away from the busyness of the city and enjoy the great outdoors, then Cambridge offers plenty of parks and green spaces for you to unwind after a long day.
Cambridge is truly a green city with plenty of parks and surrounding meadows, with the landscape flowing straight into the River Cam. There are plenty of places to choose from where you can spend a day of relaxation, enjoy a picnic alongside the river, or even play sports with friends.
Here's some of the parks and meadows you can enjoy during your visit:
Parker's Piece - a 25-acre flat green space in the centre of the city which houses lots of seasonal events such as the summer funfair or winter ice-skating rink.
Jesus Green - a central green-space with trees lining the main through-path. The River Cam borders its northern edge.
Midsummer Common - an ancient area of grassland bordered by the River Cam, where you can see the boathouses of the Colleges of the University and watch the rowers on the water.
The Backs - The meadows which border the backs of the university's main college buildings, filled with free-roaming cows and natural wildlife.
One of our particular favourite is the University Botanical Gardens. This space has been devoted to the study of the conservation of plants, as well as offering knowledge to the public of the diversity of the plant world species. In particular, Cambridge Botanical Garden currently holds over 8,000 plant species - all available for you to see when you next visit.
5. Discover the city's bustling innovation sphere
With its rich academic history and striking architecture, it can be easy to think of Cambridge as a city trapped in previous generations. Yes, it's steeped in prestige and history, but many people are unaware that Cambridge is actually one of the most innovative cities in the UK and known as a hub for technological development.
Cambridge is home to a cluster of high-tech businesses that focus on software, electronics and biotechnology - locally referred to as the Silicon Fen. Over the past decade, Cambridge has seen over 5,000 tech companies emerging, while employing around 68,000 people (Tech, 2021). With the tech industries booming in Cambridge it is without a doubt that, if you're a student that is interested in the tech industry, Cambridge could be a place to consider visiting or studying in. 
To learn more about this industry, why not study a future-proof subject in this technological hub by attending a summer course with us! We offer Biotechnology and Genetics and Innovation and Technology - as well as a number of different university-style subjects. Get a head start in your academic journey by attending a summer course and experience an authentic gateway into your desired career. 
Ready to apply for Oxford Summer Courses?
For a once in a lifetime experience, join us for summer 2023 where you can discover over 40 academic subjects taught by expert tutors. You'll also meet other like-minded individuals from around the world and make friends for life! Apply today and choose from 3 stunning locations; Oxford, Cambridge and London.
Summary
Cambridge is a top UK city known for education, architecture, and innovation. Renowned university, rich academic history, compactness, museums, green spaces, and thriving tech industry make it an ideal destination for students and tourists. Discover the vibrant atmosphere of this cultural hub.