10 Jobs You Can Do With a Medicine Degree
Have ambitions of going to medical school one day? Wondering what your future career could look like?
In the NHS, there are over 350 different roles in healthcare, all of whom work together to provide the best care and treatment for the general public. Within the field of medicine specifically, there are lots of specialisms that you grow into during your career, depending on your interests.
To open your eyes to just some of the roles you could find yourself working in, we've collated a list of 10 jobs in Medicine that you can pursue after Medical school.
Read them below – and get ready to be inspired for your future.
What jobs can you do with a Medicine degree?
1. Hospital Doctor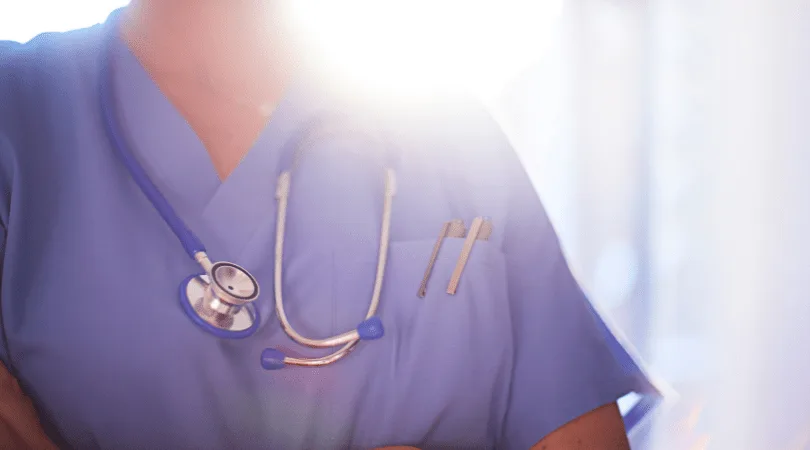 When you think about "what jobs can you do with a medicine degree?" The first job that most of us think of is the role of a hospital doctor.
As one of the most popular jobs in medicine, hospital doctors are responsible for examining, diagnosing and treating patients who have been referred to hospital, either by their GPs or other healthcare professionals.
The role can be quite varied; you'll spend time working on wards and in outpatient clinics, using your medical knowledge and skills to diagnose, prevent, and manage different illnesses and ailments.
As part of your training, you'll also have the option to work amongst and specialise in different specialities, including; cardiology, emergency medicine, general medicine, surgery, obstetrics and gynaecology, paediatrics, radiology, trauma and orthopaedics.
Responsibilities of a hospital doctor
As a hospital doctor, your specific responsibilities will depend on your specialism. For example, the work accident and emergency doctors carry out will be differ from the work paediatricians carry out.
However, regardless of your speciality, there are still a range of responsibilities you'll need to complete to ensure student wellbeing, including:
Assessment and diagnosis: Assess, examine and talk with patients to diagnose them. For those requiring special care, you'll admit them for further investigations and treatment.

Procedural tasks: Carry out a range of specific procedures, as guided by the diagnosis of a patient. This could include specialist investigations, tests and minor operations.

Administration tasks: Collate and prepare notes about the patient, including any treatment they have received whilst in the hospital. This will act both as a legal record and be beneficial for other healthcare professionals who follow up with the patient's care.

Work with others: Either with other doctors as part of a team, or across hospital departments with other medical staff to ensure quality treatment for the patient.

Team management and planning: Undertake managerial responsibilities, such as planning the workload for other members of the team. For junior doctors and medical students, you could also find yourself teaching and supervising them during training.

Auditing and research: Continually observe and research treatments and procedures in hospitals to ensure that the highest possible standards of care are provided for patients.
2. Anaesthetist
In hospitals, anaesthetists make up a significant portion of specialist doctors, providing anaesthetic and pain management relief to patients undergoing a variety of medical procedures – from surgical to diagnostic testing.
You'll be present along the whole patient journey; from pre-operative assessments all the way to postoperative pain management and discharge, and could find yourself dealing with patients from all age groups.
Responsibilities of an anaesthetist
As an anaesthetist, your main responsibilities will include:
Assessments: Make assessments as to whether patients are well enough to undertake an operation. If so, you will then be responsible for agreeing on an appropriate anaesthetic plan for that patient.

Prepare patients: Reassure and prepare patients on what to expect before, during and after their operation. Before surgery takes place, you will also prepare all tools and equipment needed for the anaesthesia.

Monitor patients: While they are under anaesthesia, you'll be responsible for making sure they are stable. This includes health checks such as; checking blood pressure, breathing rate, heart activity. In emergency situations, you'll need to resuscitate and stabilise patients.

Reverse anaesthesia: At the end of the operation, you'll need to reverse the anaesthetic and relieve any post-operative pain to support the patient's recovery.

Work with other teams: Your job in medicine will often involve liaising with other healthcare professionals to ensure patient wellbeing, including surgeons, operation departments, theatre nurses, radiographers, and more.

Administration tasks: In areas which relate to the care of patients, you'll need to make notes on their treatment plans, as well as prepare letters for discharge.

Supervise junior staff members: For anaesthetists in training, you'll often be asked to train, teach and supervise.
3. Surgeon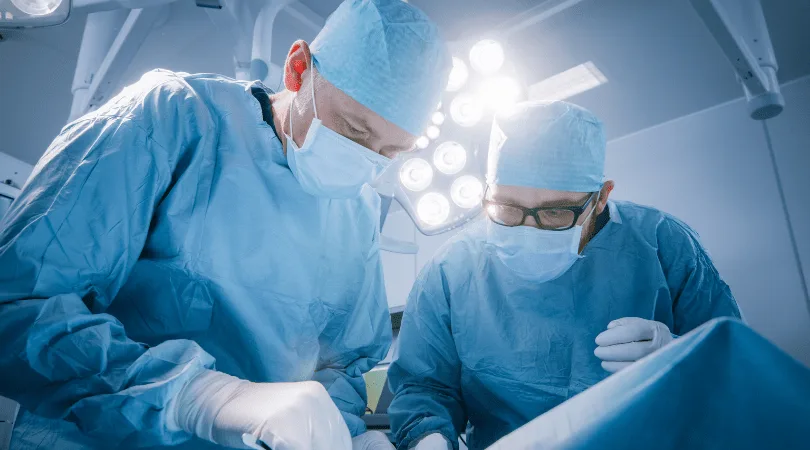 Surgeons are highly specialised doctors who operate on patients to treat disease or injury.
Becoming a surgeon is one of the longest training programmes for doctors in the UK, requiring a high level of commitment. However, it's also one of the most fiercely competitive jobs in medicine, especially in the later stages of training where your specialisms become more niche.
Although the training path to becoming a surgeon one may seem long, once qualified, you are responsible for helping patients when often they are at their most vulnerable, helping to remove, replace, or treat diseased and damaged parts of the body.
Some of the most common areas of specialisation include:
Cardiothoracic: Surgery treatments inside the chest, usually focusing on the heart and lungs.

Neurosurgery: Focusing on the nervous system, you'll perform surgery on the brain, spinal cord and extra-cranial cerebrovascular system.

Oral: Treatment for patients with diseases affecting the mouth, jaw and neck.

Otorhinolaryngology (ENT): Specialising in diseases of the ear, nose and throat.

Paediatric: Surgery on premature and unborn babies, as well as children and young adults up the age of 19.

Plastic: Surgical restoration, reconstruction or alteration of the human body, including cosmetic surgery.

Trauma and orthopaedic: Treatment for a wide range of musculoskeletal conditions, including in muscles, ligaments, tendons and nerves.

Urology: Diagnose and treat disorders of the kidneys, ureter and bladder. Vascular: Focusing on conditions that affect circulation within the body, such as disease of arteries and veins.
Responsibilities of a surgeon
As a surgeon, your specific responsibilities will depend on your specialism. However, you'll typically need to complete the following general tasks as part of your role:
Assessment: Talk to and examine patients to assess whether an operation will be necessary.

Pre-operative care: Speak with patients before surgery to talk them through the procedure and provide reassurance.

Operate: On patients to diagnose, treat and improve disease or illness.

Coordinate other healthcare professionals: To ensure that the right postoperative care and treatment is provided during the recovery of the patient.

Ward rounds: Regularly circulate around the ward of patients you have operated on to check their progress and approve for discharge.

Referrals: If necessary, refer patients to other medical departments to follow up on treatment.

Research and train: You'll be expected to conduct research to explore new surgical techniques and equipment that can improve operating procedures. You'll then help teach and train more junior members of the team on any new practices.
4. General Practice Doctor (GP)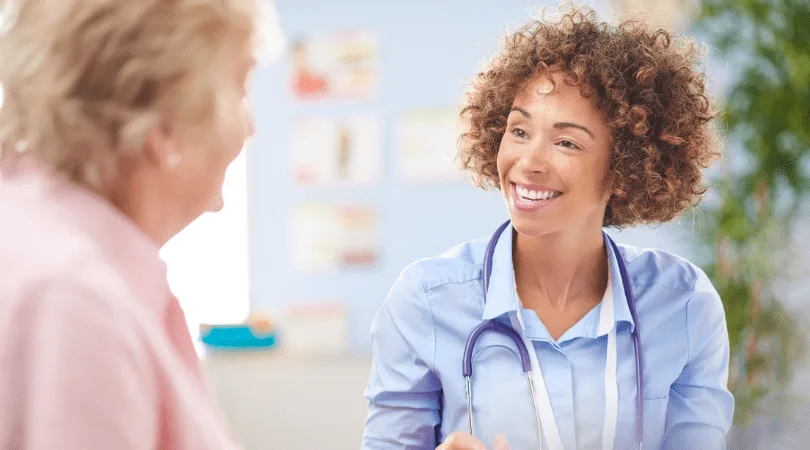 In the UK, a general practice doctor (GP) is the first healthcare professional a patient sees when they are feeling unwell or looking for advice or treatments to support their lifestyle.
General practice doctors provide ongoing medical care for their patients within a community, often seeing patients at the surgery, at their home, or within other settings such as care homes or assisted living centres.
When you first register at your local surgery, you'll usually be assigned a GP who you will have all your appointments with (depending on your availability), so they can get to know you, any ailments you have, and therefore provide you with the best method of care for you.
As such, when diagnosing and recommending treatments for patients, GPs take a more holistic approach, considering their patient's physical, emotional and social factors when deciding the best course of treatment that's right for them.
Responsibilities of a general practice doctor
A general practice doctor is required to carry out many different daily responsibilities, including:
Address patient's medical problems: Drawing on their medical history and social factors, GPs need to assess and investigate the patient's symptoms to provide treatment or refer patients for more specialist care when appropriate.

Liaise with other healthcare environments: Referring patients to hospitals or other clinics within the community when further investigation or treatment is required beyond what a GP can do.

Hold specialist clinics: For those with specific conditions or certain groups, such as newborns, diabetes, or clinics for those giving up smoking.

Immunisations: Where appropriate, providing vaccinations to prevent serious illness in patients – as guided by government advice.

Administrative tasks: A GP is required to carry out lots of administrative work, including signing repeat prescriptions, sick notes, death certificates, as well as preparing referral letters and reports.

Research: Keep up to date with medical developments, treatments and medications. GPs may also be asked to discuss the development of new pharmaceutical products with pharmaceutical company representatives.
5. Neurologist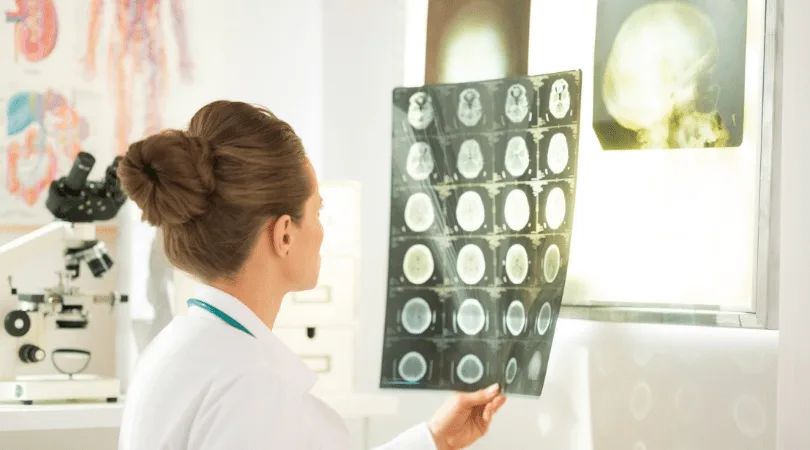 Neurology is a specialist branch of medicine, focusing on the diagnosis, treatment and management of conditions which affect the central nervous system (the brain and spinal cord), as well as the peripheral nervous system.
As one of the more complex branches of medicine, neurology is considered to be one of the highest paying jobs in medicine in the UK.
Those working within this field of medicine will train and understand a range of diseases and disorders which affect our neurological functions, including: strokes, dementia, Parkinson's disease, epilepsy, muscular diseases, spinal cord diseases, and a range of other infections which affect the nervous system.
Finally, with neurological disorders often presenting unique tropes and complex diagnoses, neurologists form part of a multidisciplinary team of doctors and therapists to provide the most effective management and rehabilitation care.
Responsibilities of a neurologist
As a neurologist, your main responsibilities could include:
Diagnose complex neurological issues: By assessing and speaking with patients about their health history, neurologists are responsible for diagnosing some of the most complex medical problems.

Run outpatient clinics: To support ongoing treatment for patients with chronic conditions, such as multiple sclerosis or Parkinson's disease.

Treat acute conditions: Urgent treatment for conditions which happen quickly, such as strokes.

Ward rounds: Checking on a caseload of inpatients to monitor their conditions and provide ongoing treatment.

Contribute to research: For neurologists, approximately half a day a week is spent in meetings with fellow neurologists, discussing the most complex cases, drawing on expertise, and contributing to ongoing research and development.

Training: Carry out teaching for junior staff members while regularly auditing practices to ensure the highest standards of care.

Liaise: With other doctors and healthcare professionals to provide ongoing support and rounded treatment plans for patients who require it.
6. Pathologist
A pathologist is a type of doctor who analyses, interprets and diagnoses diseases which cause changes to a body's cells and tissues. Once diagnosis has been confirmed, pathologists are usually involved in treatment and prevention plans for patients.
The work itself varies depending on your specialty and the specific role itself. For example, some pathologists have no patient contact at all, instead spending their working days in laboratory analysing cells, whereas others may combine lab work with clinical patient care for a more varied role.
There are four common areas of pathology which you could find yourself working in:
Chemical: Combining laboratory work with clinical assessments and biochemical tests to diagnose and treat disease.

Haematology: Diagnosing and treating disorders of the blood and bone marrow. You could also find yourself providing clinical support for the hospital's blood bank.

Histopathology: Studying disease by medical interpretation of abnormal cells and tissue samples. This role is integral to cancer diagnoses, including management and establishing staging.

Virology and microbiology: Management of blood-bone infections and other emerging viruses to treat and prevent infection within the community.
Responsibilities of a pathologist
As a pathologist, you'll be responsible for overseeing the management and operations of a hospital laboratory and its staff. You may also work alongside patients to create treatment and prevention plans.
As such, you may find responsibilities vary between roles. But with that being said, there are definite responsibilities you'll typically need to do, including:
Examine patients: Using diagnostic skills to determine which medical tests need to be carried out on patients.

Support biomedical scientists: Support and work with the team while they complete laboratory tests.

Advice and interpretation: Provide appropriate support and help interpret test results to decide on next steps, and whether further investigations are required.

Deliver clinical care: Some neurologists will provide appropriate clinical treatment to treat and manage disease and infection.

Training and management: Undertake managerial responsibilities in the team, including supervising and training junior medical staff.

Research: Continually trial new tests and assessments to contribute and improve medical knowledge base.
7. Ophthalmologist
In medicine, the field of ophthalmology focuses on the diagnosis, treatment, management and prevention of diseases within our eyes and visual systems.
As an ophthalmologist, you could find yourself dealing with a range of medical conditions, including cataracts, glaucoma, squints, infections, trauma and degenerative conditions which can be an effect of wider medical illness or ageing.
Depending on your type of work, you could find yourself working in everything from laser eye surgery to operating theatres, and even outpatient clinics to support and treat ongoing conditions. There is also a limited amount of ward-based work available too.
Responsibilities of an ophthalmologist
Combining general medicine training with surgery, ophthalmologists spend much more of their time within theatre. However, the role still carries a wide variety of responsibilities outside of surgery, including:
Assessments: Assess and examine patients to diagnose conditions.

Eye surgery: Carrying out surgery on patients where appropriate, including key-hole surgery, laser, and microscopic.

Outpatient clinics: Manage emergency and specialist eye clinics when necessary.

Management of conditions: Providing appropriate care for patients, taking into account their medical and psychological wellbeing throughout.

Operate specialist equipment: Including slit lamps, lenses, and ophthalmoscopes.

Occasional ward rounds: Most patients have day surgery, meaning they are not required to stay in hospital overnight.

Liaise with patients: Educate and support patients and family members to better understand and manage their medical condition.

Legal administrative tasks: For those identified as blind or partially sighted, you'll need to handle legal documentation for their certification.
8. Higher education tutor
For those who train in Medicine but who decide later in their career that they want to move away from clinical practice, then becoming a higher education tutor could be a potential job role for you. Still drawing on your years of experience in the medical field, it's a chance to share your expertise with budding students and craft a future generation of medics.
As a higher education tutor, you will teach the academic side of medicine to undergraduate and postgraduate students aged 18 and over. Teaching could take the form of lectures, seminars, tutorials, practical demonstrations and e-learning. You may also help students find clinical placements for them to complete the practical elements of their course.
With your medicine degree, you'll have the expertise in your subject area that's needed to teach students. But more often than not, you'll also have a desire to pursue your own research in the field and contribute to the wider research community of your department or institution – and which could lead to a medical breakthrough.
Responsibilities of a higher education tutor
As a university tutor, your main responsibilities will include:
Course preparation: Design, prepare and develop courses, modules and teaching materials for your classes.

Delivery: Teach students through lectures, seminars, tutorials, practical demonstrations or e-learning technologies.

Assess work: Set, mark and moderate any student examinations and assessments, providing feedback on where improvements can be made.

Supervise a research group: Typically involving research assistants (post-doctoral students), PhD and Masters students to find new advances in the medical field.

Pastoral care: Provide your students with pastoral care and advice when asked.

Administrative tasks: Carry out admin tasks which are relevant to the department, including: student admissions, induction programmes, committee work, reports, and more.

Training: Undergo regular staff training activities in alignment with government guidelines and advice.
9. Psychiatrist
For those with a particular interest in Psychology, a job in Medicine which may interest you is the role of a psychiatrist.
Focusing on improving the lives of people who live with mental illness, psychiatrists have to combine their strong scientific background with excellent listening, communication and interpretation skills to diagnose and treat patients with severe disorders.
These mental health disorders can include: dementia, severe depression or anxiety, eating disorders, schizophrenia, and patients who suffer with their mental health as a result of trauma to the head and neurological pathways.
As many of these illnesses can cause physical illness and risk to patients, psychiatrists are also trained to recognise mind and body symptoms, evaluating and assessing risk, and drawing up treatment plans to ensure safety of patients.
There are different types of psychiatry that you can specialise in, including:
General adult: For patients aged 18 to 65 who can be in inpatient or outpatient settings.

Child and adolescent: Working on a range of illnesses which impact young people up to the age of 18.

Geriatric: Specializing in psychiatric illnesses which affect those aged 65+, such as dementia.

Forensic: Psychiatric care in prisons and secure hospitals. Psychiatry of intellectual disability: Helping patients who live with learning disabilities.
Responsibilities of a psychiatrist
Specific responsibilities of a psychiatrist will depend on your type of practice. For example, a forensic psychiatrist will have different daily responsibilities compared to a child psychiatrist.
However, all roles share an overlap in general tasks and responsibilities, including:
Assess patients: Regularly reviewing a patient's physical and mental health, social situation, background, thought processes, and any potential risk factors.

Management and treatment: Work directly with patients to provide a good standard of practice, care, and treatment. Administration: Keep detailed records of patient conversations, behaviours, and treatment decisions.

Medical prescriptions: Prescribing medication where necessary.

Liaise with the team: Working closely within a multidisciplinary team of health professionals, including psychiatric nurses and psychologists to provide the best care for patients.

Training and research: Keep up-to-date with new psychological research, and train junior staff members on the job.
10. Cardiologist
Finally on our list of jobs in medicine you may not have known about is the role of a cardiologist. Cardiologists are trained hospital doctors who diagnose, assess and treat patients with diseases and defects of the cardiovascular system, including the heart and blood vessels.
More specifically, cardiologists manage adult patients who suffer with conditions such as: angina, heart murmurs, hypertension, heart attacks, diseases of the arteries, disease of the heart muscle, and more. Paediatric cardiology is a separate speciality.
Much of the emphasis of a cardiologist's role is on improving the chances of survival and quality of life for patients who have suffered heart attacks, heart failure or heart rhythm disorders, while also undertaking constant research to understand how to prevent and manage cardiovascular diseases.
With the role being one of the more pressurising jobs on our list, it is generally considered to be one of the UK's highest paying jobs in medicine.
Responsibilities of a cardiologist
Most cardiologists will undertake the following responsibilities:
Assessment and diagnosis: Examining patients and using specialist equipment to diagnose diseases of the cardiovascular system.

Treatment of disorders: Especially in acute scenarios, cardiologists will conduct emergency surgery to improve the survival rates of patients.

Develop ongoing treatment plans: To support patients living with lifelong cardiovascular conditions.

Support patients: Communicate advice and support to patients and family members about their conditions.

Hold outpatient clinics: Conduct early-detection screenings and offer support to patients living with cardiovascular disorders.

Administration tasks: Maintain and regularly update patient records and charts to monitor patient progress. Liaise with healthcare staff: Including nurses and physicians to provide the best care plan for the patient.
Study Medicine in Oxford or Cambridge next summer
Are you now feeling inspired about a future pathway for you? Thinking; "how can I prepare now to become a doctor?"
Look no further.
Discover our 2-week Medicine summer courses, available for students aged 13-24. Available in the historic cities of Oxford and Cambridge, our Medicine courses are designed to give you a comprehensive overview of the subject fundamentals, introducing you to the practical study of biology and anatomy, while also prompting you to challenge the ethical questions that come with the job role: considering the value of human life, human enhancement, and how to navigate through the complex decision-making that comes with the role.
Want to find out more? Take a look at the Medicine summer courses we have available, or contact our admissions team to speak with an advisor.
Summary
Want to study medicine in the future? Discover 10 jobs in Medicine that you could specialise in during your career in healthcare.