Best Books to Read to Learn English
In the 21st Century learning English isn't just a nice-to-have. It's essential for international communication.
Currently, 1.75 billion people worldwide speak it at a useful level – that's around one in four of the general population. And as each minute passes while you read this article, more and more schools, universities and multinational corporate companies are mandating English as the common corporate language. Airbus, Nokia, Samsung and Microsoft in Beijing – are just a few to have adopted this change in the past few years.
In this sense, learning a common mode of speech isn't just a good idea anymore; it's a must for anyone hoping to study or work amongst an international community.
And what better way to learn than through the art of reading and writing?
Although there are a variety of ways to learn English – whether it be at school, using apps on your smartphone, or even attending an overseas summer course focused on learning English as a Foreign Language – nothing quite beats an old-fashioned, high-quality textbook.
With that in mind, take a look at our collection of some of the best books to read to learn English.
Best for: Improving your English Vocabulary
Oxford Advanced Learner's Dictionary (OALD), by Hornby A. S.
First on our list of the best books to read to learn English is the Oxford Advanced Learner's Dictionary.
Designed specially for students who wish to attend an English-speaking university, it's one of the world's largest English learning dictionaries with over 60,000 words and 109,000 written examples of how to use those words.
The OALD offers far more than any other dictionary on the market, including descriptions of English synonyms and collocations to make your speaking and writing more fluent. There's even a digital app you can download which responds to verbal communication. So, if you know how to say the word, but don't know how to spell it (a common problem with many English words), the app will intuitively find exactly what you're looking for.
Most importantly, the dictionary also features the Oxford 3000 – a list of the most useful, frequently used and must-know words in any English-speaking country. According to the dictionary, once you've mastered those 3,000 words, you'll be able to understand 80-90% of all English; both in written and spoken form.
English Collocations in Use, by Michael McCarthy & Felicity O'Dell
Learning a new word can be really difficult. First you need to learn what it means, then you need to familiarise yourself with how to pronounce, spell, and then understand its purpose in a sentence. And perhaps, what can be even more challenging; learning how to use the word naturally as though you were a native speaker.
To speak natural English, you will need to study collocations. These are a group of words that fit together in order to form a natural relationship and sound. Some examples include: "to do homework," "to make the bed," "to take a walk," etc.
Fortunately, the University of Cambridge has created an excellent series of books that can equip you with some of the most common English phrases as well as those trickier to learn sentences.
They're perfect for intermediate learners, using your established vocabulary to teach you how words work together with fluency. If you want to expand your vocabulary even further, they also have similar books helping you to learn English idioms and phrasal verbs.
English for Everyone: English Vocabulary Builder, by DK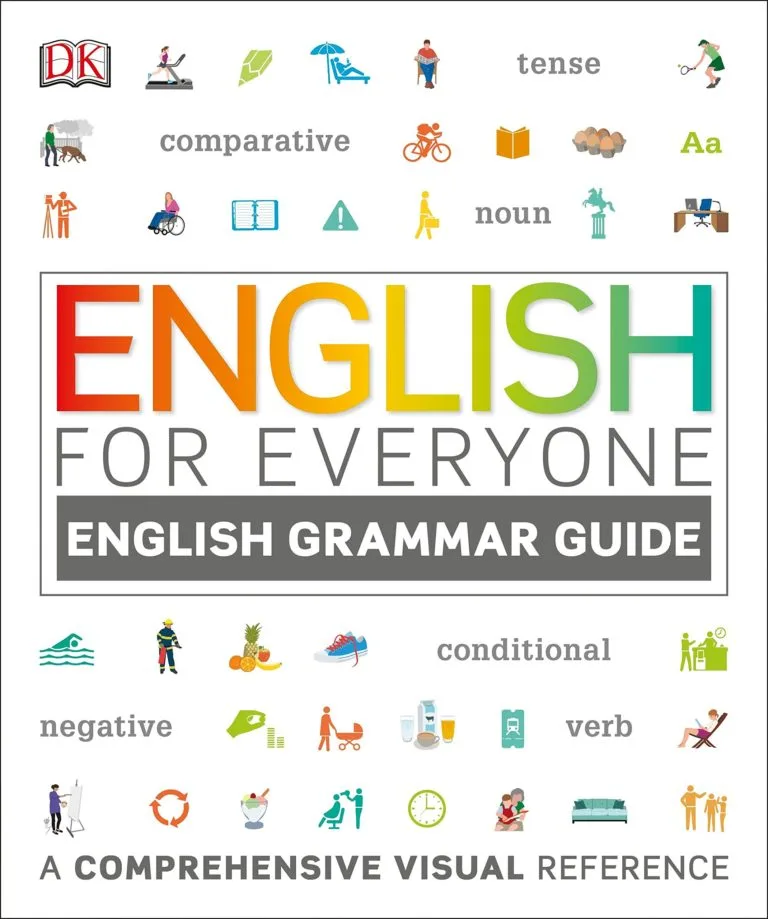 Research suggests that one of the fastest ways to learn the English language (or any language in fact) is by using pictures. After all, a large part of our brains – the visual cortex – is devoted to processing visual information.
In fact, it's the way we all learn our very first words. Think about babies. They see a picture of a tiger, hear others using the word 'tiger,' and then learn to say that exact word when they want to talk about tigers.
For language learners, there are many picture-learning books available, filled with the most common objects, places, and all the other things you could ever need to know about when travelling to an English speaking country.
One of the best is DK's English for Everyone book series, which includes over 3,000 words, phrases and pictures of ordinary objects, activities and situations. There's even additional sections for learning common grammar rules, idioms, and, for those of you looking to broaden your future career opportunities – a section on business phrases.
In addition, the DK books also provide sections within their books that are devoted to listening and review exercises, so you can practice speaking and pronunciation too. It couldn't be any easier either – just log onto their website or use their free app to start learning on the go!
Best for: Improving your Grammar
English Grammar in Use, by Raymond Murphy
Another great addition to the University of Cambridge's English as a foreign language book collection is the English Grammar in Use.
It's one of the most popular grammar books in the world, with simple explanations, lots of examples and practice questions. When you finish the book, there's even a test you can take to identify the areas of English grammar which you may spend some extra time focusing on.
The book comes in three different levels: Beginner, Intermediate and Advanced. The Intermediate version is written for those with around a B1 or B2 level of English, so if your skills lie higher or lower than that, you should look at the other books available to you.
Practical English Usage, by Michael Swan
Created by language expert, Michael Swan, at the University of Oxford, Practical English Usage answers some of the most commonly asked questions about English grammar and vocabulary, as backed by simple definitions and relatable examples.
This comprehensive book features more than 600 different entries across a range of topics in the English language, including:
Understanding how to use tenses
Rules for word formation and spelling
The varying formalities of written communication
Understanding conditionals
Politeness
Expressing opinion
How to avoid offence
Also, and rather helpfully, the book also comes with a guide to over 250 common word problems in the English language and how to overcome them – great for giving you a quick knowledge boost!
Best for: Improving your English speaking skills
Think English, Speak English: How to Stop Performing Mental Gymnastics Every Time You Speak English, by Dr Julian Northbrook
Photo credit: goodreads.com
Designed for those with an intermediate to advanced level of English, this book claims to take you away from simply reading and understanding English to being able to speak fluently and understand what people are saying instantly.
But how?
Well, when we're at the earlier stages of learning a language, we have to think and translate words in our head before being able to register and respond accordingly.
Think English, Speak English instead focuses on that very specific part of being able to master the English language: to help you stop that translation process and think directly in English so that you can understand and speak the language as though you were a native.
What's more, it also comes with a free audio version which you can download onto your smartphone – perfect for those who find it easier to learn through hearing.
Ship or Sheep? An Intermediate Pronunciation Course, by Ann Baker
Photo credit: amazon.co.uk
One of the best books on the market to improve your English speaking skills is Ship or Sheep?, an accessible pronunciation course for learners at the intermediate-level of the English language.
Focusing specifically on how different words sound based on the letters used to build them, each unit focuses on a specific sound – which includes English's 24 consonants and 19 different vowel sounds. In this way, it's designed for you to flick through to the areas where you feel you need the most improvement on – great if you know which areas you specifically want to target.
There's also some example conversations, exercises and games that you can play with your study buddy to mix up your learning and make it more entertaining.
Practice Makes Perfect: English Conversation, by Jean Yates
Photo credit: amazon.co.uk
Another great book to help you master real-life conversations and speak English more fluently is the Practice Makes Perfect English Conversation book.
Targeted at those at a B2/C1 level of English, the book teaches you some of the most common phrases and idioms through sample conversations. There's also detailed explanations and practice exercises to help you better understand how to:
Introduce yourself to people
Express opinions – things you like and dislike
Express your wants and needs
Narrate a story or re-tell a previous conversation
In addition, there's also an audio component which is available to download on your app, allowing you to listen to the conversations which are included in the book.
Best for: Motivation
Fluent in 3 Months, by Benny Lewis
Photo credit: amazon.co.uk
Ok, so the last book on our list may not be strictly about learning the English language, but it's an essential book to read to keep you motivated on your language learning journey.
Enter: Fluent in 3 Months, a book created by language hacker Benny Lewis who is on a mission to show you that you can learn any language – without having to leave your home – using just a simple toolkit and harnessing the power of the Internet.
In the book, Lewis outlines his key principles to help you become fluent within a 3-month period:
Speak from day one: connect with native speakers online (or even in person)
Don't be self-conscious – try and maintain good flow
Change your mindset: believe in yourself that you can do it!
Stay focused and determined: even if you are lacking time, always bear in mind the end-goal you're trying to achieve
It's a great inspirational read and definitely one to help you maintain momentum when the motivation starts to lack!
Top tips for selecting the book that's right for you
In this article we've covered a whole range of books you can read to learn the English language. But how do you choose the one that's best for you? Take a look at some of our top tips for guidance:
Check the skill level: Firstly, you want to ensure any book you choose is matched to your current skill level and ability. Most books come in beginner, intermediate and advanced levels of difficulty, though they may also make recommendations based on your graded level of English.

Identify your learning needs: Which areas of the English language do you struggle with the most? Grammar? Speaking? Need to brush up on all areas? Once you've identified your areas of weakness, you'll be able to select a book that targets your specific needs.

Choose a learning style: How do you as a student learn best? Are you a visual learner that finds it easier to remember information through imagery? Perhaps you prefer listening to audiobooks? Or do you enjoy an interactive textbook with quizzes and example exercises. Many of the books on our list have audio and interactive elements to them – so choose the ones that match your learning preferences.

Consider a dual language book: If you're at the very beginning of your learning journey, dual language books can be really helpful. These are books that have the original text in your native language on one page, and then the English translation on the other. This means you can quickly reference your own language if you do not understand all of the English text.

Read reviews: Still struggling to narrow down your options? Sometimes reading book reviews can be really helpful in deciding which book is right for you. Reviews should offer an honest opinion about a user's experience of a language book and how it helped them improve their English. We recommend always browsing through reviews to ensure the book aligns with your learning goals.
Study English as a Foreign Language in Oxford
As great as books are at equipping you with the core language skills you need, the best way to excel is to put your English skills to the test.
Join us on one of our English as a Foreign Language courses next summer and get ready for a learning experience like no other. Studying in the historic city of Oxford, you'll have plenty of opportunity to perfect your speaking, reading and writing skills as you explore the cultural sights, mix with the locals, and enjoy interactive, communication-based learning. Plus, our English Language courses are British Council Accredited, so you can be sure you're studying with a leading academic provider.
For more information about our English as a Foreign Language courses, please visit this webpage. Alternatively, you can contact our admissions team to speak directly with an advisor.
Summary
Looking to improve your fluency in English? Discover our recommended list for students of best books to learn English.